Motorcycle Training Wanaka, Central Otago – Beginner to advanced
Welcome to Ornsby Motorcycle Training Wanaka. Meet Simon Richards & Matt Bailey, two of our highly professional and fully qualified instructors who provide beginner-to-advanced level training and all licensing services.
Regardless of whether you are an absolute beginner and don't know a throttle from a piston… or maybe Uncle Stu taught you to ride thirty years ago and you just have a nagging feeling that you could be getting more from your riding – Simon, Matt & Ornsby Motorcycle Training can help you open the road ahead!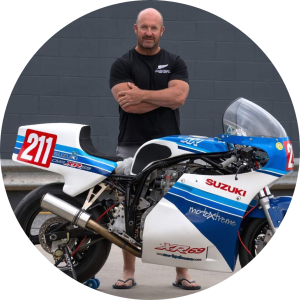 SIMON RICHARDS
WANAKA BASED INSTRUCTOR
NZTA Approved Instructor
CBTA Assessor
Ride Forever Training Provider
ITRA Emergency Driving Police Trainer in On-Road, Off-Road & Motorcycle
Simon spent 15 of his 30 years with the NZ Police as the Otago and Southland riding & driving instructor.  Yes!  He trained our local Police in all aspects of their road based skills!  He's an all round good guy and wants to help you.
.
MATT BAILEY
WANAKA BASED INSTRUCTOR
NZTA Approved Instructor
CBTA Assessor
Ride Forever Training Provider
Having owned his own aircraft maintenance company and working tirelessly as an Aircraft Engineer through his career, Matt has decided that it's time to bring that passion and commitment to the the motorcycling community.  We are so happy to have Matt as part of the OMT team.  With his kind heart and quick wit, he keeps everyone entertained.  Matt has a calm teaching style and will help ensure you have a load of fun along the way.
SERVICES PROVIDED – WAKANA / CROMWELL / DUNEDIN:
BOOK YOUR LEARN TO RIDE OR LICENSE ASSESSMENT
BOOK YOUR RIDE FOREVER COURSE
If you would like to send us an enquiry go to the contact widget at the bottom right of the screen.
A WORD FROM SIMON:
I'm 55 years old, born and bred in Dunedin and have recently relocated to Wanaka after completing 30 years of policing.
For the first four years of my police career I worked as a motorcycle officer.
For the last fifteen years I been been the Police riding and driving instructor for the Otago/Southland area.
Motorcycling has always been a passion of mine. Over the years I have been lucky enough to own numerous bikes ranging from  Kawasaki Z1s to the most recent Yamaha R1.
I'm involved in the post classic motorcycle racing scene having regularly competed on tracks throughout NZ. For the last seven years I have represented NZ in the post classic motorcycle team at Phillip Island in Australia.
I am looking forward to helping other people enjoy motorcycling as much as I have.